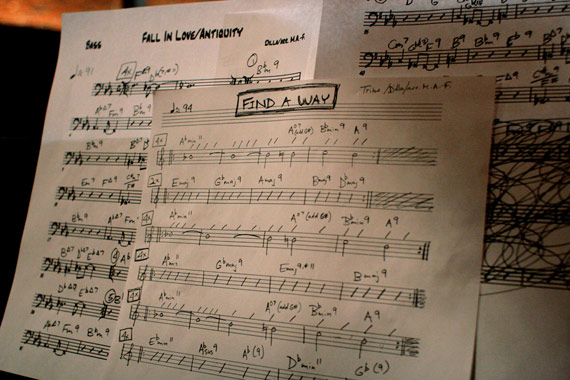 I saw this video and Im just speechless, like beyond belief, people who know me KNOW I ALWAYS have something to say
Suite For Ma Dukes - Miguel Atwood-Ferguson and a 40 piece orchestra Live @ The Luckman
There was magic brewing on the campus of Cal State Los Angeles ton February 22nd the kind that puts a love spell on everyone who walks into its path. Miguel Atwood-Ferguson and his 40-piece orchestra managed to set the entire Luckman Fine Arts Plaza afloat on Sunday night with Timeless: Suite for Ma Dukes, their gorgeous re-imagining of J Dillas best known works. Surprise guests filtered in throughout the night, including Common, Talib Kweli andPosdnuous from De la Soul. Dillas inspiring mother was a beacon throughout the performance, small in stature but mighty in spirit.
If you listen closely to the music, the possibilities are endless
Ma Dukes (February 22nd, 2009.)
The energy onstage was infectious, and the audience was just as emotionally invested in the performance as the musicians. One could feel the grand swoops and shimmering intricacies of the music just by the motion of Atwood-Fergusons hands. When Dwele came out to do Angel, he had to stand back in awe for several moments to take in the beauty of what he was about to sing over.
In true Dilla fashion, one classic begets another, and we got to see that progression take place right before our eyes.Diana Moreira led us through the bossa nova lilt of Stan Getz and Luiz Bonfas Saudade Vem Correndo,containing the famous hook Dilla sampled into the Pharcydes Runnin. Minutes later, the orchestra changed tempo and transformed the bossa nova mood into Dillas inspired jam with vocal contributions by Amp Fiddler, Bilal andShafiq Husayn of Sa-Ra. Bilal then sang Reminesce and brought the crowd to the verge of rapture.
The night rounded out when Posdnuous surprised everyone and did his verse of De la Souls Stakes is High, and then brought on Talib Kweli to do Doves verse. The chorus which included OhNo, Alchemist, Illa J, Frank Nitty, Rhettmatic, Ma Dukes, J Davey, Houseshoes sang out the refrainLove, Vibration - eventually turning the mic over to the audience to sing along. An encore of Slum Villages Fall in Love left everyone with the sweet high that only falling in love can bring about.
People will be talking about this majestic performance for years and blessed are the ones who were able to see it bloom firsthand.